PRODUCTS
TS4000 - Transportable Model designed for Driver Training - (See below)
TS8000 - Larger Model built in-ground designed for Indoor Motor Sport
                          Entertainment (see below) 
TS4000 REAL CAR SIMULATOR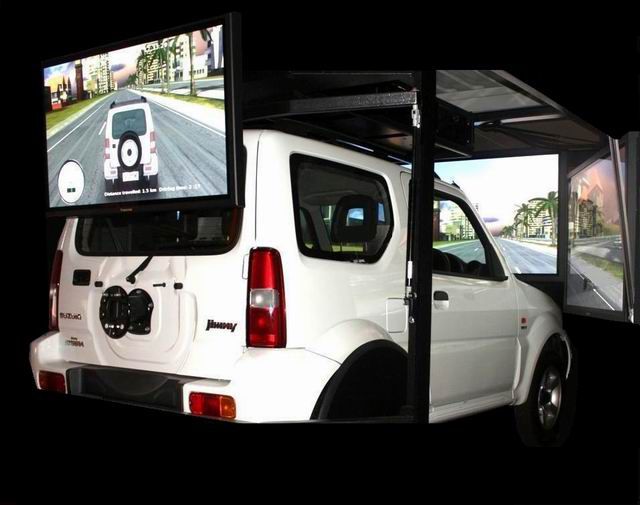 The TAG Systems TS4000 Real Car Simulator is the worlds first driving simulator that allows you to drive a real vehicle within a virtual world.
All of the car's components are in full operation including the engine, transmission, steering, accelerator, brakes and all cabin controls.
The simulator itself is housed in a custom designed 20' High Cube Shipping Container and operates on single phase power. This transportable model comes as a complete turn key operation which includes a new motor vehicle.
The vehicle securely drives on custom designed rollers which continually send data for power, speed and braking to the TAG System computers which provide living three dimensional moving scenes travelling in synchronisation with the car.
The imagery of numerous road networks and driving scenarios are controlled by a user friendly operators console or remotely by laptop computer.
This imagery is viewed by the driver on 3 x 65" Plasma Screens which provide for a 180 degree horizontal field of view of the virtual world. All fumes are extracted directly from the vehicles exhaust system via unobtrusive ducting into the open air ensuring occupational health standards are met and the cooling of the vehicle's engine is ensured by a direct fan to the radiator and engine assembly.
The end result means a trainee can be taught the skills of operating a motor vehicle and the correct management of dangerous driving situations without putting themselves or the public in danger ..all while driving a real car.
---
TS8000 REAL CAR SIMULATOR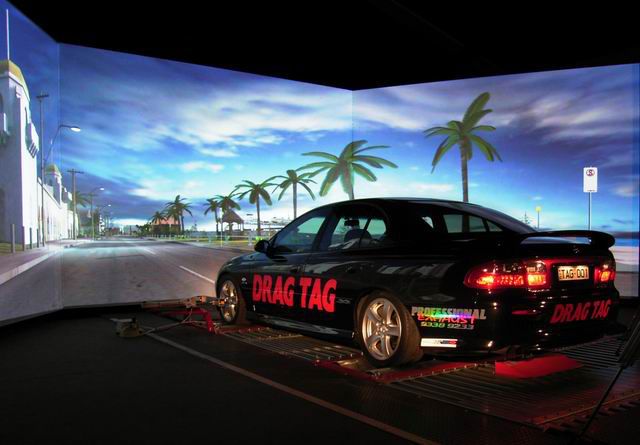 The TS8000 is designed to accommodate rear wheel drive vehicles and is fixed permanently in the ground.
It is designed primarily for indoor motorsport entertainment.
The vehicle is simply driven on to the system and is secured within seconds by TAG's Patented hold down system to a custom designed dynamometer. The dynamometer sends data for power, speed, torque and braking to the TAG systems computers which project the surrounding imagery on 3 massive 4 metres x 2.25 metres screens that give the driver a 200 degree peripheral view of the virtual world.
After the drag race or circuit race the vehicle is released from the dynamometer, and driven forward off the system through the middle screen (which is automatically raised by pneumatics) allowing for the next entrant to drive into the lane. Turn around time from releasing one vehicle to loading the next can be under one minute.
The general public is able to use their own rear wheel drive vehicle on the system or drive a high performance V8, Nascar or a Formula 1 type vehicle. All of which can be supplied by TAG Systems. 
The TS8000 is built in ground at a permanent location or can be supplied as a transportable, demountable above ground system. Both versions have the ability for multiple systems to be linked together allowing competitors to see and interact with each other within the same virtual world.
This system can also be used for driver training.